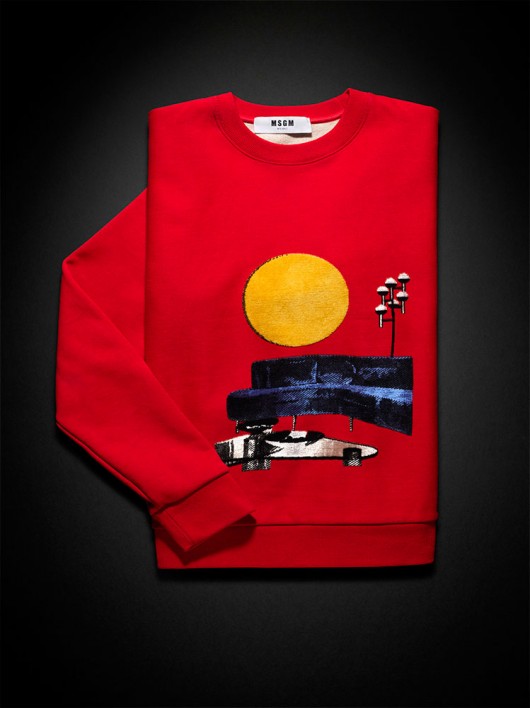 Felpa, MSGM, f/w 2016/17
I modelli sulla passerella dell'inverno 2016/17 di MSGM sembravano personaggi usciti dai ritratti dell'artista contemporanea Elizabeth Peyton, ispirazione dichiarata di questa collezione per Massimo Giorgetti, designer ed ideatore del brand. Così, in sintonia con lo stile un po' "raffazzonato" della Peyton, la collezione è ricca di accostamenti solo apparentemente casuali di forme, colori e materiali: un incontro armonioso di casual e formale che vede l'utilizzo di lavorazioni particolari, come nel caso della sbrindellatura sugli orli delle maglie oppure dell'utilizzo di intarsi e jacquard al posto delle stampe. Come nel caso dell'interno di design riprodotto sulla prossima felpa-culto. A cura di Angelica Pianarosa, Foto Michele Gastl.
The models on the MSGM
f/w 2016/17 catwalk seemed people emerged from the portraits of the contemporary artist Elizabeth Peyton, this collection's declared ispiration for Massimo Giorgetti, designer and creator of the brand. So, in accordance with the Peyton's slapdash style, the collection is rich in a mash-up of shapes, colours and fabrics: a balanced match of casual and formal, that considers the use of unusual methods, like in the case of the sweaters' tattered hems or intarsia inlays and jacquards instead of prints. Like in the case of the design interior reproduced on the next cult-sweatshirt. Edited by Angelica Pianarosa, Ph. Michele Gastl.