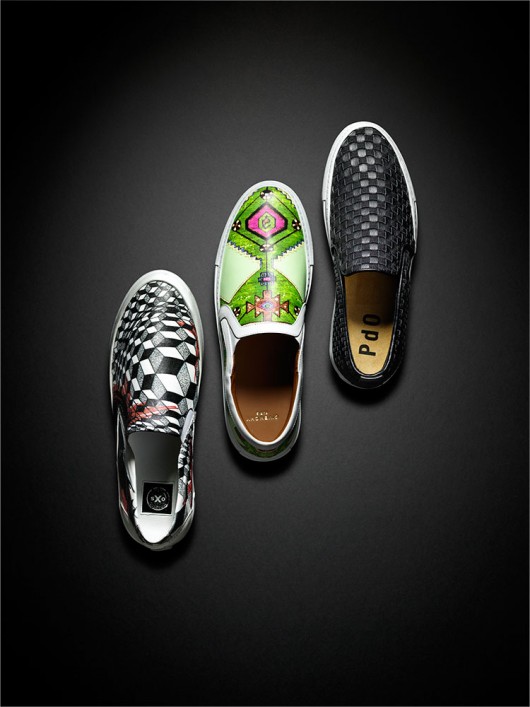 Slip-on, O.X.S., Givenchy e Pantofola d'Oro, s/s 2016
Vuoi per comodità e praticità, le slip-on sono tra le calzature più gettonate per l'estate a venire. Per la loro semplicità e per la superficie della tomaia piuttosto estesa, si prestano molto bene alla più svariata serie di decori e lavorazioni. Così O.X.S. si affida per una capsule collection al talento del tatuatore Alle Tattoo, riproducendo i suoi disegni originali con una particolare tecnica di stampa per sublimazione; Givenchy (by Riccardo Tisci) rivisita i tipici motivi stilizzati degli antichi tappeti persiani virandoli su tinte fluo nella sua già gettonatissima stampa "Aqua Carpet"; mentre Pantofola d'Oro si dimostra sicuramente più sobria mantenendo comunque un alto livello d'effetto, con la sua lavorazione ad intreccio su tutta la superficie. A cura di Angelica Pianarosa, Foto Michele Gastl.
Maybe for their comfort and practicality,
the slip-ons are the most wanted shoes for this summer. Due to their simplicity and their large surface, they are suitable for a diverse range of decorations. O.X.S. entrusts a capsule collection to the talented tattooist Alle Tattoo, duplicating his original drawings with a specific printing technique; Givenchy (by Riccardo Tisci) revisits the typical motifs of the ancient persian carpets turning their colours fluorescent in its fashionable print "Aqua Carpet"; while Pantofola d'Oro is surely more sober, mantaining a high effect, with the interlaced processing on the entire surface. Edited by Angelica Pianarosa, Ph. Michele Gastl.