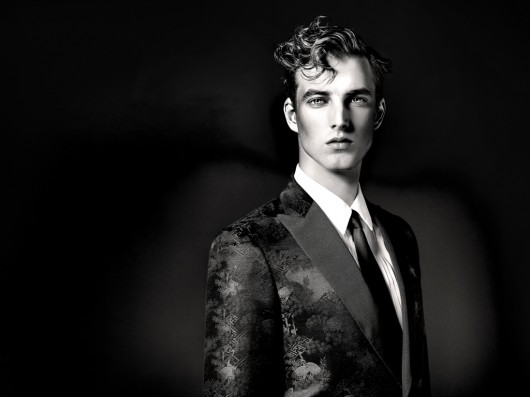 Clicca sull'immagine per ingrandirla
A cura di Gioele Panedda
Illustrazioni di Andrea Tarella
Foto di Giovanni Squatriti
Grooming di Astor Hoxa using Bumble & Bumble in esclusiva Sephora
Modello James Smith @ Fashion Model Management
Nella foto: Giacca da smoking in seta jacquard, Brioni; camicia in popeline di cotone con plastron plissettato e cravatta in seta, Gucci.
Fragranze e colonie storiche, create dai maestri dell'arte del profumo. Ricercate e sofisticate.
SERGE LUTENS – SERGE NOIR Una fragranza inconfondibile, raffinata e regale, formulata con materie prime rare. Evoca la cenere cristallizzata e fumosa, con accenni di linfe, resine, cisto e spezie. Un orientale puro, leggero e misterioso. Una composizione olfattiva assolutamente originale, mistica e ultra-chic.
BYREDO – GIPSY WATER La colonia tradizionale, divenuta popolare nel XVIII secolo, veniva utilizzata a scopi medici e terapeutici, oltre che cosmetici. Fresca e vibrante, questa fragranza evoca lo stile di vita nomade, grazie al bergamotto, bacche di ginepro e incenso.
CREED – GREEN IRISH TWEED Allo stesso tempo ricco, fresco, pepato, evoca grandi spazi. Un matrimonio esclusivo di essenze opposte. Dalla nota di testa principale del limone, associata alla menta piperita, quella di cuore delle foglie di violetta, al fondo ambrato.
AGONIST – ARTIC JADE Una fragranza ispirata alle distese di ghiaccio dell'artico, questa edizione incapsula un puro gioiello di profumo ottenuto con ingredienti 100% naturali. Estremamente fresca, grazie alla fresia bianca, l'assoluta di gelsomino egiziano e al legno di cedro.
Editor Gioele Panedda, illustrations by Andrea Tarella, picture by Giovanni Squatriti, Grooming Astor Hoxa using Bumble & Bumble exclusively for Sephora, model James Smith @ Fashion Model Management. In the picture: silk tuxedo jacket, Brioni; cotton shirt with pleated plastron and silk tie, Gucci. Historic fragrances and colognes, created by the masters of perfume's art. Refined and sophisticated.
SERGE LUTENS – SERGE NOIR A unique fragrance, refined and regal, made of rare raw materials. It evokes crystallized and smoky ash, with traces of sap, resin, cistus and spices. It's light and misterious, a pure oriental. An olfactory composition that is absolutely original, mystic and very chic.
BYREDO – GIPSY WATER The traditional eau de cologne, become popular in the XVIII century, was used not only for cosmetic purpose, but also for medical and therapeutic. Fresh and vibrant, this fragrance evokes a nomadic lifestyle, thanks to bergamot, juniper berries and incense.
CREED – GREEN IRISH TWEED At the same time rich, fresh, peppery, it evokes wide spaces. An exclusive match of opposite essences. From the lemon main top note, matched with peppermint, to the middle note of violet leaves, to the amber base note.
AGONIST – ARTIC JADE A fragrance inspired by ice stretches of the Arctic, this edition is a real jewel, obtained with 100% natural ingredients. Extremely fresh, thanks to white freesia, the essence of egyptian jasmine and cedar wood.