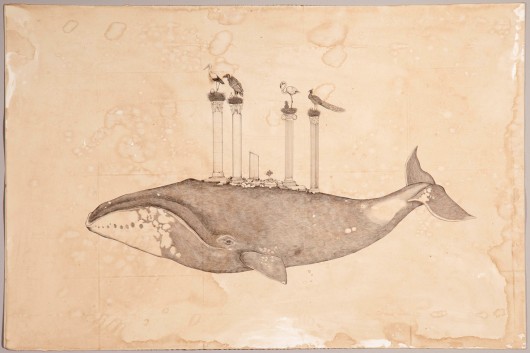 Balena della Groenlandia e acropoli con cuore sacro
Andrea Collesano è un artista liquido, uno capace di imporre le sue visioni con gentilezza. I suoi lavori sommergono accarezzano e oltrepassano. Quale tecnica più opportuna della sua china quasi indelebile per raccontare la fauna e il mare con una carta lavorata sapientemente a mano e mai uniforme. Ho visto le balene ho voglia di gridare tutto questo variegato universo. Figure animali appese nel cielo, nuvole fluttuanti di ispirato desiderio.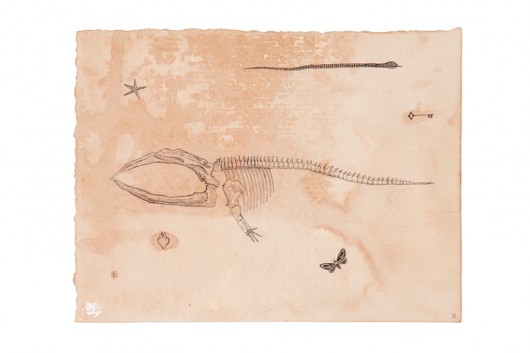 Scheletro di balena in compagnia
Ingoiano acqua e trattengono questi enormi cetacei non solo il fiato ma, data l'età, sicuramente anche tutta la memoria del mondo. Collesano con attenzione si immerge nelle profondità e segna. Il capodoglio, questo animale cosmoforo gigantesco, forte e vigoroso, rotondo e antico sostiene (chissà per quanto tempo ancora) tutto a partire dal mondo delle idee. L'animale mai completamente addormentato respira fuori sospeso e sempre in ottima compagnia: polpi, meduse trasparenti, impettiti cavallucci marini, lunghissimi serpenti appena appena attorcigliati e cuori sofferenti e tante chiavi senza toppa.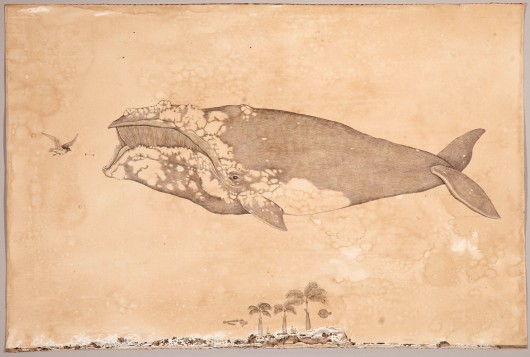 Balena franca boreale Gabbiano e Chiave
La balenottera azzurra, non più mostro letterario, è un ponte di significati attesi. Sono mostri di un mondo misconosciuto sfiorato a malapena dal sub e dal pescatore rispettoso. La figura umana, grande assente, nei lavori di Collesano è forse ingoiata protetta dalle immense creature o più facilmente scomparsa perchè trascurabile e invadente, perfino il paesaggio è appena tracciato in sottili scogliere. In lontananza si intravede, qualche volta, un faro. Le carte del Collesano, per quanto accurate, non sono semplici illustrazioni naturalistiche, conservano solo il fascino discreto delle forme viventi. Sono carte che corrompono piacevolmente il tempo spezzandone i limiti, le convenzioni e i confini.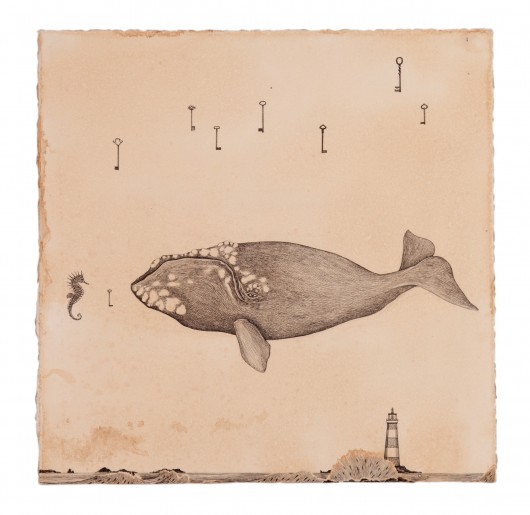 Balena, cavalluccio del mare, otto chiavi e faro
Le opere dell'artista sono totalmente prive di banali indicazioni di significato, della scoperta possibile di un qualsiasi tesoro. Sono delle mappe esse stesse tesoro. Immagini soavi da portare sempre con sé, sulla pelle e all'interno come un cerebrale tattoo. Queste mappe sono dei talismani preziosi: enigmatici incantesimi senza gravità. Carta disegnata a china, anticamente marina, in cui si apparecchiano trasformazioni ancora a venire. Una benedizione amorosa che non si può e non si riesce a spiegare del tutto ma decisamente visibile agli occhi.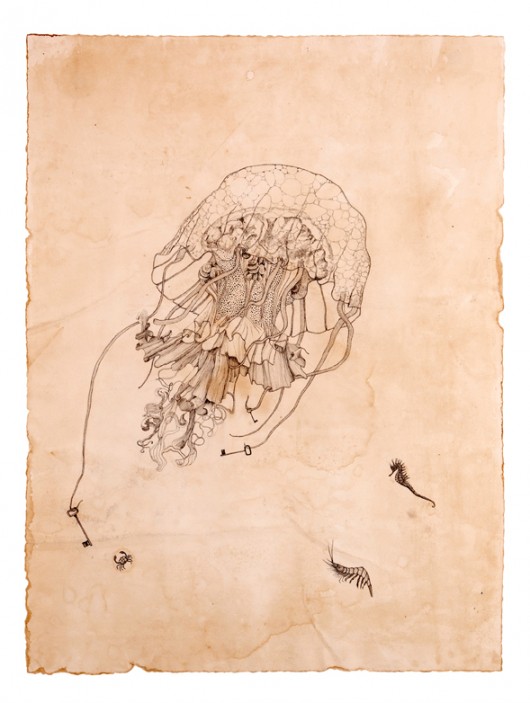 Medusa e chiavi
http://www.barbarapaciartgallery.com/
In mostra alla OFF – Brusselles Contemporary Art Fair, dal 25 al 28 aprile 2014 con "Bestiario contemporaneo", Bruxelles, Belgio.
Fernendo Nevruz
I saw the whales. Andrea Collesano is a liquid artist, able to dictate his visions with finesse. His works of art submerge caress and go beyond. His almost indelible ink is the best technique to describe fauna and sea on a skillfully handcrafted, never uniform paper. I saw the whales I feel like shouting out all this varied universe. Animal figures hung in the sky, floating clouds of inspired desire. Those huge cetaceans swallow water and hold back not only breathe but, due to their age, surely also all the memory of Earth. The sperm whale, this huge divine animal, strong and tough, rounded and ancient hold up everything (who knows for how long) starting from the world of ideas. The animal, never completely asleep, breathe suspended and always in excellent company: octopuses, transparent jellyfishes, seahorses, barely twirled long snakes and suffering hearts and a lot of keys without keyholes. The blue whale, no more a literary monster, is a bearer of awaited meanings. They are monster of an unknown world, scarcely touched by the scuba diver and the respectful fisherman. The human being, great absent, in Collesano's work is (maybe) devoured, protected by those immense creatures or more easily vanished because unimportant and intrusive, even the landscape is barely sketched in thin cliffs. On the background we can se, sometimes, a lighthouse. Collesano's drawings, even if accurate, are not simply naturalistic illustrations, they just preserve the discreet charme of life forms. They're drawings that pleasantly corrupt time breaking his limits, norms and boundaries. The artist's pieces are totally lacking of trivial suggestions of meaning, of any possible discovery of treasure. They are maps, treasures themselves. Pleasing images to carry along, on the skin and inside like a brain tattoo. Those maps are precious talismans: mysterious spells without gravity. Ink on paper, set with transformations yet to come. A love blessing that is not possible to explain, but certainly clear.
http://www.barbarapaciartgallery.com/
Exhibition "Bestiario contemporaneo" at OFF – Brusselles Contemporary Art Fair, April 2014, from 25th to 28th, Bruxelles, Belgium.
Fernendo Nevruz