L'UOMO VOGUE
YES
Una bella foto e un ottimo styling: la moda è in armonia con il personaggio e l'ambiente.
Good picture and great styling: perfect balance between fashion, location and subject.
NO
Non è sempre vero che un attore veste bene la moda: questo è un esempio.
Fashion does not suit every actor. This is an example.
YES
Bella l'idea dello scippo per uno still-life/indossato; e lo scatto ha una bella tridimensionalità.
iI's nice the bag snatch idea for a still life editorial.The shot has a good three dimensional effect as well.
NO
Disastro su tutta la linea: pessimo il rever della giacca alzato, il fazzoletto nel taschino, il colletto della polo che sparisce sotto il blazer, le pieghe dei pantaloni e l'effetto "ponte" cintura/scarpe.
Complete disaster: awful turn up lapels, the handkerchiefs, the polo collar that disappeares hidden by the blazer, the wrinkled trousers, the belt-shoes "bridge effect".
INTERVIEW
YES
E' una foto che evoca un immaginario sensuale. L'impatto sa di vissuto ma – nonostante i guanti lisi e il materasso sporco – riesce lo stesso a trasmettere un feeling di lusso understatement .
This image evokes a sensual imaginary, has a vintage touch and in spite of the worn out gloves and dirty materass, it gives a sense of understated luxury.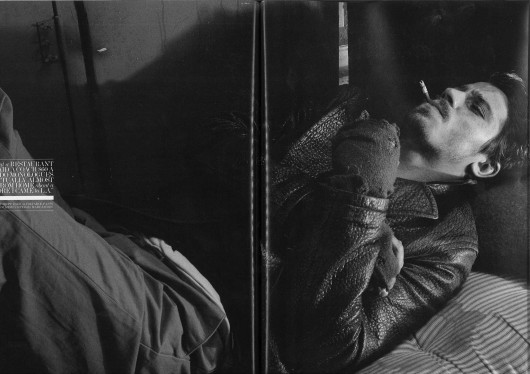 GQ UK
NO
Se voleva essere una foto sexy, non sono riusciti nell'intento. Non è neppure elegante nè "speciale".
If it was supposed to be a sexy picture it just didn't work out. Is neither classy nor "special".