The Men Issue ha incontrato i quattro fondatori del brand Mykita: nella foto da sinistra Moritz Krueger, Philipp Haffmans, Daniel Haffmans e Harald Gottschling. Sin dal 2003 Mykita produce occhiali per molte aziende di moda nel mondo. Tra le collaborazioni, l'ultima nata è quella con lo stilista tedesco Bernard Willhelm.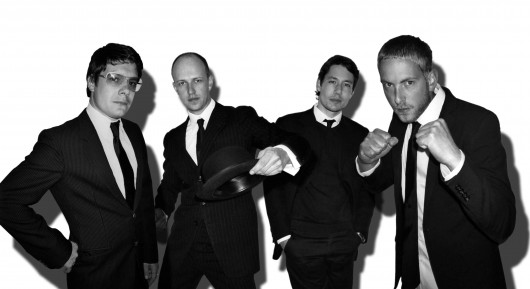 La creatività è esclusiva del designer o è frutto di un lavoro di team? "La collaborazione con Bernard Willhelm è iniziata in concomitanza con la preparazione della sua collezione FW 2009. Questa collezione traeva ispirazione dai giochi olimpici invernali di Innsbruck del 1976. Ispirandoci al mood di collezione abbiamo così creato insieme una linea di eyewear nella quale il look anni '70 si fondeva con il design di un elemento, come il metallo ultraleggero Mykita, contemporaneo e innovativo. La collaborazione continua ed è stata riconfermata anche per la stagione Fall Winter 12/13. I nuovi modelli sono stati inoltre presentati durante la sua ultima sfilata alla Paris Fashion Week. Mykita inizia a lavorare su una nuova collaborazione solo quando ha la certezza di poter esprimere nella sua totalità il Dna creativo di entrambe le parti." L'occhiale è ormai accessorio fondamentale, anche in termini di stile. Dateci 3 consigli su come sceglierlo "Dal momento che lo sguardo è la più intensa forma di comunicazione, l'occhiale diventa così l'elemento che definisce in modo impattante il look di ogni persona. Non ci sono regole per scegliere l'occhiale perfetto: la mia unica raccomandazione è meglio un po' più grande che troppo piccolo per il proprio viso. Bisogna sentirsi a proprio agio con la montatura che deve essere un'estensione della propria personalità." Qual è per voi l'elemento principale per un occhiale: il design o la ricerca dei materiali? "Entrambi. Mykita è simbolo di bellezza e tecnologia. Il nostro intento è quello di creare un prodotto che sia allo stesso tempo tecnologico e molto forte dal punto di vista estetico. Questi due elementi sono i valori che rappresentano il brand. La nostra idea di un prodotto moderno non si identifica in una replica di modelli del passato ma in una evoluzione e re-interpretazione degli stessi". Con chi vorreste collaborare in futuro? "Non solo con designer del mondo fashion ma anche con personaggi innovativi dal design e architettura come Dieter Rams e Tadao Ando. Per la moda certamente Comme des Garçons".
Men Issue met MYKITA's founders (from left) Moritz Krueger, Philipp Haffmans, Daniel Haffmans and Harald Gottschling. Since 2003 Mykita has been supplying hand-assembled eyewear for the high-end segment.The latest one is the collaboration with the German bases designer Bernard Willhelm.
How did the collaboration with Bernard Willhelm start? Is the creativity coming from the designer only or is it a result of the collaboration? The cooperation with Bernard Willhelm and the setting up of his 2009 F|W collection, happened to be at the same time.The collection was inspired by the Innsbruck Olympics Games of 1976. Inspired from the mood of the collection, we created an eyewear collection with strong 70s style and ultra light metal Mikita, very modern and innovative. The importance of glasses as an accessory. How to choose the right one, 3 advices. Since the eyes are the most powerful communication tool, glasses become a defining element of someone's look.There are no rules about how to choose te right one, I only suggest to choose it a bit bigger rather than smaller, matching your facial proportions.You need to be comfortable with the shape, as it should be an extension of your personality. What's the trademark characteristic of Mykita's glasses?Is it the design or the refined materials? Both. Mykita is a symbol of beauty and tecnology, our will is to create a product that is tecnologic and at the same time very strong from an aesthetic point of view.This are the two defining elements of the brand. Our idea of modern product is not a replica of the models we seen in the past, is instead a reinterpretation and an evolution of them. Who do you wish to collaborate with in the future? I wish to collaborate not with fashion designers only but also with innovative names from the design and the architecture industries such as Dieter Rams and Tadao Ando From the fashion industry Comme De Garcons.