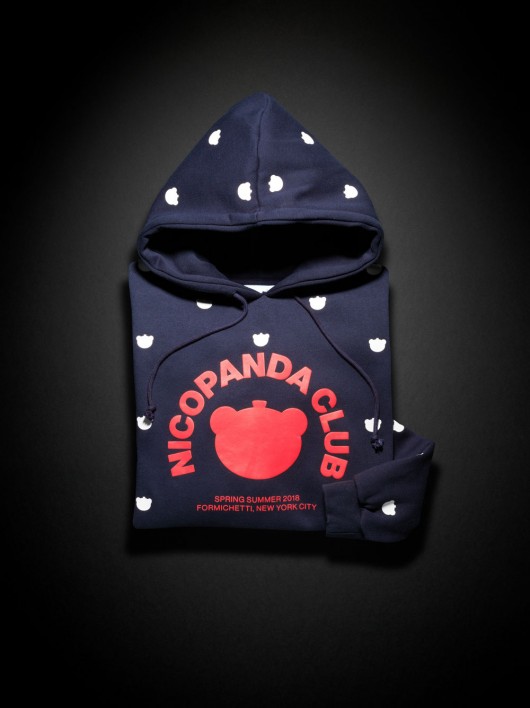 Felpa, Nicopanda disponibile su amazon.it, s/s 2018.
La pratica del See Now, Buy Now ormai non desta più sconcerto negli addetti ai lavori, figuriamoci nei fashionisti che possono cogliere la possibilità di acquistare i futuri must-have all'istante. Così è stato per la Spring/Summer 2018 di Nicopanda, marchio di streetwear amato dai giovanissimi frutto della creatività di Nicola Formichetti, stylist italo-giapponese celebre soprattutto per le sue collaborazioni con personaggi di fama internazionale (vedi Lady Gaga): una capsule di sei pezzi sport-moda, caratterizzati dal logo un po' manga, presentata durante lo show di Londra lo scorso settembre, si è resa subito disponibile all'acquisto in esclusiva su Amazon Moda, tramite il servizio Prime Now. A cura di Angelica Pianarosa, Foto Michele Gastl.
The practice of See Now, Buy Now
doesn't disconcert the insiders by now, never mind the fashionistas, that can seize the possibility of buying the future must-haves immediately. This was for the Spring/Summer 2018 of Nicopanda, the streetwear brand loved by young people created by Nicola Formichetti, italian-japanese stylist well known mainly for his collaborations with worldwide celebrities (e.g. Lady Gaga): a capsule of six sport-fashion pieces, with a manga logo, presented during the fashion show in London last September, that was immediately available exclusively on Amazon, through the service Prime Now. Edited by Angelica Pianarosa, Ph. Michele Gastl.