Isabella Nazzarri, Fresco frizzante estivo (ultima estate), 2017 - 50x70 cm Watercolor on paper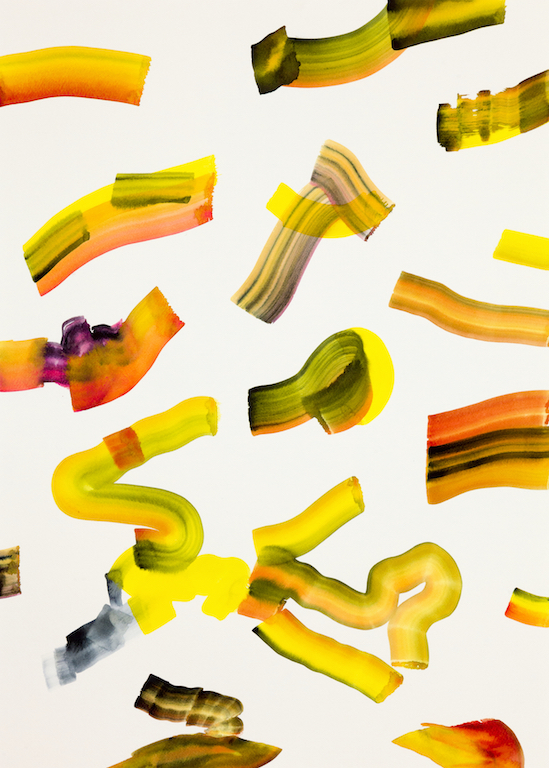 Isabella Nazzarri, classe 1987, si diploma dapprima all'Accademia di Belle Arti di Firenze e successivamente anche a quella di Milano, città in cui attualmente vive e lavora. L'arte come un dialogo con la natura. Da sempre affascinata dalle tavole naturalistiche e dai microrganismi, Isabella Nazzarri dipinge forme evanescenti e sfuggenti. Nelle sue opere i colori tenui e la morbidezza delle pennellate danno vita a linee fluttuanti. Definisce il colore come una grammatica emotiva. La sua arte è una poetica astratta che si articola tra forma e materia, tra memoria e natura. Gestualità ed emotività.
Isabella Nazzarri dipinge con la tecnica dell'acquarello figure astratte provenienti dal suo immaginario. Gli elementi dei suoi dipinti evocano un richiamo alla natura ed hanno la capacità di dare corpo e immagine a stati mentali. Come strutture fluttuanti che ci trasportano in un mondo in continuo movimento. La serie degli Innesti è caratterizzata da notevole spontaneità. I colori tenui e la morbidezza delle pennellate danno vita a linee fluttuanti.
Le Monadi rappresentano un lavoro di passaggio tra pittura e scultura. La volontà dell'artista è di dare più corpo al colore, facendolo diventare scultura. Isabella le crea colando strati di resina, quasi come fossero acquarelli in 3D.
Dall'uso degli acquarelli alla scultura. Le Epifanie nascono sempre in modo spontaneo ma mantengono il richiamo alla natura, alle rocce e ai minerali. Restando pur sempre un lavoro astratto, senza forme riconoscibili. Solamente intuizioni che provengono dalla vita reale. Una metamorfosi dal figurativo all'astratto.
Attualmente in mostra presso la galleria ABC a Genova, Isabella ha in programma un'esposizione a Roma. Beatrice Carducci
Le opere di Isabella Nazzarri, artista della galleria genovese ABC, sono disponibili in vendita online su Kooness
Kooness.com presents: Isabella Nazzarri. Born in 1987 in Livorno, Italy, Isabella Nazzarri obtained her Bachelor degree in Painting from the Academy of Fine Arts in Florence. After that, she went on with a degree in Visual Art from the Academy of Fine Arts of Brera, Milan. Her art seems to be a dialog with nature. Isabella Nazarri studied plants, stones and microorganisms. She paints fleeing forms, floating lines. She defines color as an emotive grammar. Her art is an abstract poetry that lies between shape and matter, memory and nature. Gestures and emotion. Her main medium is watercolor and her subjects remember us nature. Her forms are rather the visual transposition of mental results and moods. Floating structures that bring us into a moving world. As we mentioned above, the biomorphic nature of these shapes recalls the complexity of microorganisms like germs, bacilli and microbes. Innesti are characterized by spontaneity. Light colors create soft lines. Monadi represent a transient work between painting and sculpture. Here, Isabella Nazzari tries to give to the color more expression, transforming it into a sculpture. They seem like 3D watercolors. Epifanie suggest us rocks and minerals' shape, staying abstract and without having a recognizable form. Currently, Isabella Nazarri has a solo show at ABC gallery, in Genova, and she's preparing another exhibition in Rome. Beatrice Carducci
Isabella Nazzarri's artworks, from ABC gallery, are available on Kooness.