Renato Calaj - Serie 16 #1 - 2016, Mixed media: enamel, acrylic, spray paint on canvas 80x120 cm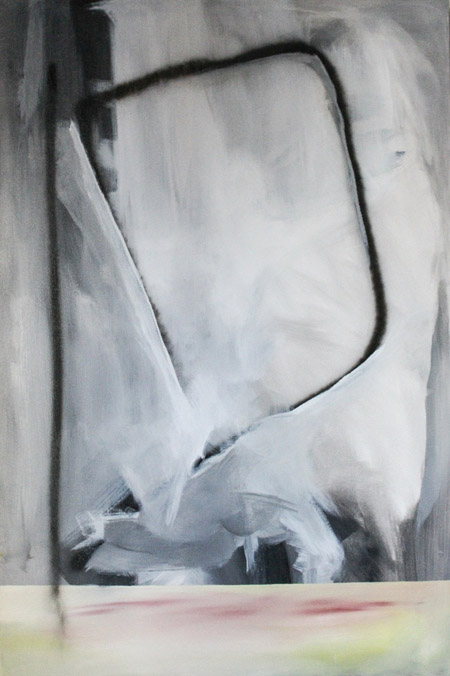 Renato Calaj, classe 1992, è un artista di origine albanese che vive e lavora tra Milano e Brescia.
La sua ricerca nasce dalla bomboletta spray e da due diversi spazi su cui essa trova espressione: il muro e la tela. Concettuale e minimale. Le tecniche tipiche del graffitismo sono volutamente azzerate.
Spazio, confine, limite e tempo sono le parole chiavi della sua arte.
Ci si può chiedere cosa sia un confine, un limite, un bordo, un margine, un contorno… e la risposta sarà apparentemente facile ed implicherà il concetto della fine di qualcosa, o del suo inizio. Là dove qualcosa finisce, è il limite. Ma anche là dove qualcosa comincia. O continua.
Sulla forma bidimensionale del quadro, il limite è il contorno che chiude e definisce la forma rispetto allo spazio della rappresentazione. Questo discorso cade, però, quando Renato dipinge sul muro, dove lo spazio si espande notevolmente. Perché tracciare un confine significa istituire la possibilità di violarlo. Andare oltre lo spazio della tela, attraversare il limite.
Molte opere di Renato Calaj sono caratterizzate da una linea che attraverso lo spazio dell'opera. Una linea che vuole indicare la continuità e l'attraversamento. La rottura di uno spazio circoscritto alla ricerca dell'infinito.
I suoi quadri sono quindi un viaggio concettuale in cui i limiti non sono rigidi, i bordi non sono impermeabili e i confini sono morbidi. La forma non è mai da considerarsi la conclusione ma soltanto essenza e genesi. Ed è questo che ci suggerisce la sua opera; che non c'è confine tra arte e spazio.
Le opere di Renato Calaj, uno degli artisti della galleria milanese AMY-D Arte e Spazio, sono disponibili in vendita online su Koonesshttps://www.kooness.com/.com.
Kooness.com presents: Renato Calaj. Renato Calaj was born in Albania in 1992. Now he lives and works between Milan and Brescia.
His artistic research starts with spray paint, and two different spaces to express it: wall and canvas. Conceptual and minimal. Another way of doing graffiti. Space, border, limit and time are the keywords of his art. We can ask ourselves what a border, a limit, an edge, a margin, a contour is… and, apparently, the answer could be simple and will involve the concept about the end of something, or its start. Where something ends, we find a limit. But also, where something begins or continues. If we think about the two-dimensional shape of an artwork, the limit is represented by the frame that closed and defines the form. This concept falls when Renato Calaj paints on the wall, where space is much bigger and he has less restrictions. Because drawing a border means have the possibility to break it. Going beyond, going through the limit. A lot of Renato Calaj's artworks are characterized by a line that cross artwork's area. A line that indicates the continuity, in search of infinity. His artworks are a conceptual journey where limits are not strict. Borders are not impermeable. Boundaries are soft. Shape is never a conclusion, but essence and genesis. This is what his research tells us; there's no boundaries between art and space. Renato Calaj's artworks, from AMY-D gallery, are available on Kooness.com.