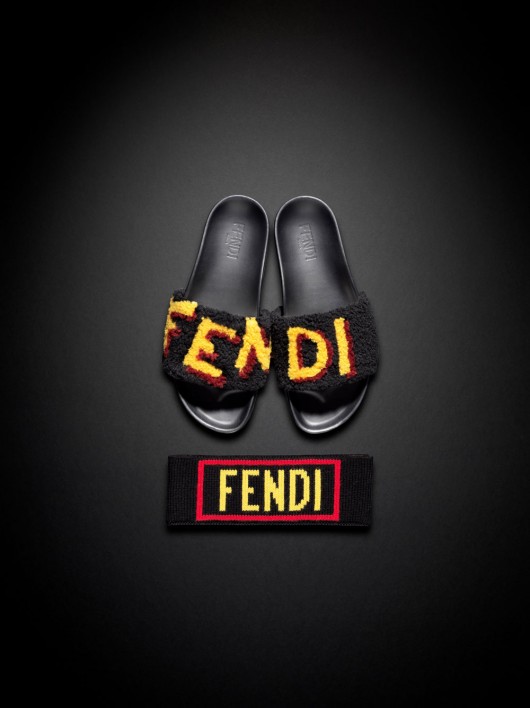 Sandali e fascia, Fendi, f/w 2017.
Silvia Venturini Fendi ha preso ispirazione, per il suo uomo autunnale, dallo sportswear degli anni '80 e '90, ravvivato da tocchi stilistici presi dal peculiare stile Buffalo, di cui Ray Petri era maestro. Tra felpe a blocchi di colore, sandali flat in pelle e montone, immancabili inserti di pelliccia, fasce in lana, spiccano degli inni alla positività, i cosiddetti "Fendi Vocabulary": messaggi semplici, diretti, fatti di singole parole, come "Love", "Listen", "Try", sorta di regole universali da seguire fiduciosamente. E in quest'ottica, la stessa parola "Fendi", riprodotta in caratteri bold, diventa essa stessa un'immagine positiva, da indossare da capo a piedi. A cura di
Angelica Pianarosa
, Foto
Michele Gastl.
Silvia Venturini Fendi, for her
f/w man, had looked back to '80s and '90s sportswear, with touches of the peculiar style Buffalo. Between colour block sweatshirts, leather and sheepskin flat sandals, inevitable fur inserts, wool headbands, se notice several tributes to positivity, the "Fendi Vocabulary": simple, direct, single word messages like "Love", "Listen", "Try", a sort of universal rules to follow trustingly. And with this point of view, the word "Fendi" itself, written in bold letters, becomes a positive image, to wear from head to toe. Edited by Angelica Pianarosa, Ph. Michele Gastl.