Metà degli anni '90, di cui si comincia a rivedere qualche spunto nelle collezioni di oggi: Dolce & Gabbana osano – con successo – cotoni e sete damascate anche per l' uomo. E la camicia da sera diventa in uso anche per il giorno. Foto di Rennio Maifredi.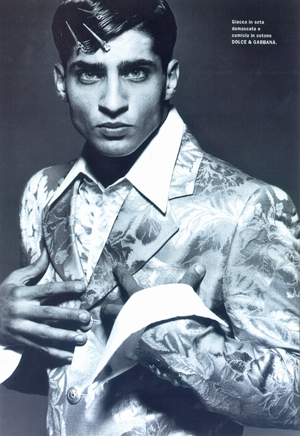 "HARPER'S BAZAAR UOMO", January 1995
Mid 90s are making their appearance at the last Dolce & Gabbana fashion shows, being provocative -successfully- with silk and cotton damask fabrics also for men. Dress shirts are not for evenings only anymore.Picture by Rennio Manfredi.