Jordan Better, artista visionario e fashion maker, dal 1999 titolare di Lost Art, NY. La foto in poltrona è stata fatta da Rennio nella prima metà degli anni '90, ed è stata pubblicata su Harper's Bazaar Uomo; Jordan indossava un abito gessato firmato Paul Smith. L'altra, più recente, è uscita su Max dicembre 2008 ed è anche stata presentata a novembre 2010 in occasione della mostra RCS "MODA: SOSTANTIVO MASCHILE", curata da Alessandro Calascibetta: qui, Jordan veste abiti di Lost Art e di Just Cavalli. Lo scatto è di Bela Chow (non cercatelo, non lo troverete: è lo pseudonimo di un fotografo che non ha potuto firmarsi) e lo styling di Carlo Ortenzi.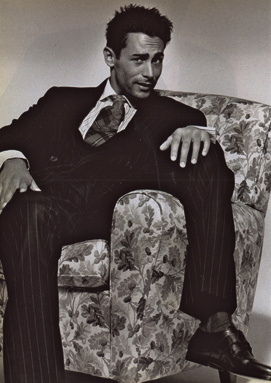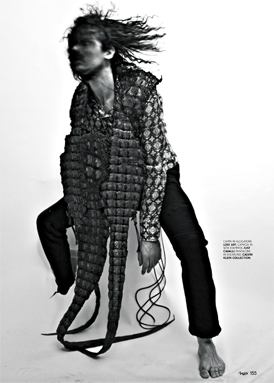 Visionary artist and fashion maker Jordan Better, owner of Lost Art, NY since 1999.
The picture sitting on the armchair has been shot by Rennio, and then published in the mid 90s by Harper Bazaar Men; Jordan was wearing a pinstripe suit by Paul Smith.
The other picture, more recent, has been published by Max (december 2008), and was part of the "Fashion: Masculine Noun" exhibition curated by Alessandro Calascibetta: here Jordan is wearing Lost Art and Just Cavalli, shot by Bela Chow (don't bother trying to find him: it's a pseudonym of a fotographer who couln't use his real name), and styled by Carlo Ortenzi.