ABSOLUT CRYSTAL PINSTRIPE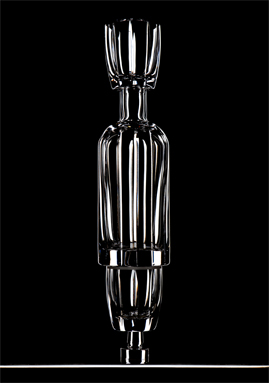 Ogni collaborazione è un successo e ogni reinterpretazione della classica bottiglia di vodka, diventa oggetto da collezione. Il duo Skogsberg & Smart si diverte a dare la propria visione, realizzata con il cristallo, della rinomata vetreria Reijmyre, soffiato e tagliato interamente a mano. Il design si ispira alla tradizione sartoriale dei gessati confezionati su misura di Saville Row e ad averla saranno solo 800 fortunati al mondo.
Every collaboration turns out to be successfull as every reinterpretation of the iconic vodka bottle becomes subject to collections. Skogsberg & Smart have realized their own vision of the renowed Reijmyre glassworks, in handmade and hand-blown crystal. The design has been inspired by the traditional tailored Savile Row pinstripe suits and only 800 pieces are available worldwide.
La foto fa parte del Portfolio di Giovanni Gastel realizzato in esclusiva per Max. La mostra resterà aperta al pubblico in Corso Vittorio Emanuele a Milano fino al 23 dicembre.
The picture is from Giovanni Gastel's portfolio, exclusively realized for Max magazine. The exhibition is open to the public untill december 23, in Corso Vittorio Emanuele, Milan.