Gianfranco Zappettini - La trama e l'ordito, Spartito celeste, 2003 - tempera e oro su cellulosa, 40x40 cm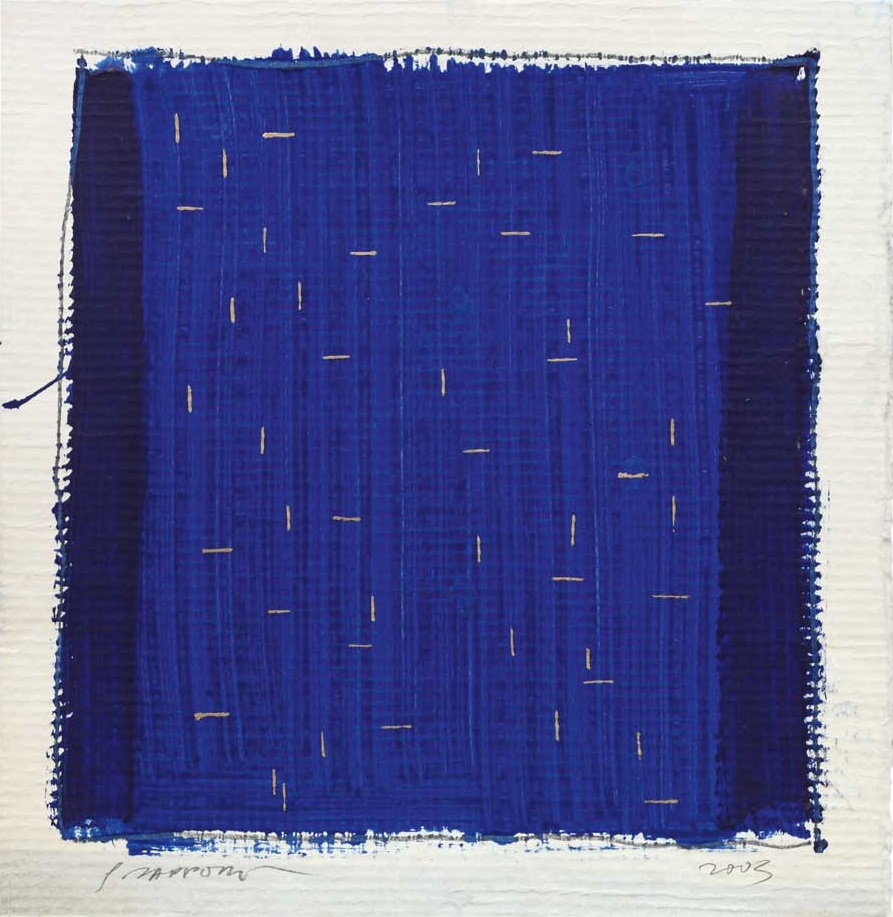 Gianfranco Zappettini, tra i maggiori esponenti della Pittura Analitica, nasce nel 1939 a Genova. Vive e lavora a Chiavari. Nel 1962 tiene la prima personale presso la sua città natale e in quegli anni comincia a collaborare con l'architetto tedesco Konrad Wachsmann dal quale apprende l'estremo rigore formale, l'importanza della tradizione ma anche l'attenzione per l'innovazione.
Negli anni Settanta, Zappettini tenta un nuovo linguaggio pittorico indagando in modo analitico i più semplici elementi grammaticali: superficie, colore, processo, tela, telaio e materiale.
Per il suo secondo periodo pittorico, agli inizi degli anni Duemila, l'artista sceglie la carta, simbolo di apparente tradizione e di ogni embrionale processo ideativo. Durante questa ultima fase, Zappettini concepisce la serie dal titolo "La trama e l'ordito". In essa è protagonista la tradizione ligure e di famiglia del macramè: il quotidiano lavoro della spoletta sul telaio diventa armonico simbolo dell'opera dell'artista e senso puro dell'umana esistenza. Il colore assume importante valenza simbolica: egli predilige il blu, il rosso ed infine il bianco. A questi associa ad un corpo materico di matrice estremamente umile quali corde, resine viniliche, acrilici, tempere e nylon.
I lavori della serie pittorica "La trama e l'ordito" di Gianfranco Zappettini sono disponibili in vendita online su Kooness grazie alla galleria Menhir Arte Contemporanea.
Kooness.com presents: Gianfranco Zappettini. Gianfranco Zappettini is one of the most radical stars of the so-called "Analytical Painting". He was born in Genoa in 1939. He currently lives and works in Chiavari. In 1962 he held his first solo show in his hometown and began collaborating with the German architect Konrad Wachsmann. From him, Zappettini learned formal precision, the importance of tradition and also attention to innovation. In the Seventies, the painter tried to formulate a new pictorial language by investigating, in an analytical manner, the simplest grammatical elements: surface, color, process, canvas, frame and material. During his late period of production in early 2000s, Zappettini chose paper, symbol of seeming tradition and embryonic ideation process. In those years he produced the "Warp and weft" series where the Ligurian and family tradition of macramé has become the protagonist: the daily work on the loom is harmonic symbol of the artist's work and pure sense of human existence. Color takes on a symbolic value: he prefers blue, red and even white. The materials are of humble origins: cords, vinyl resins, acrylics, temperas and nylon.
Works from the "Warp and weft" series by Gianfranco Zappettini are available for sale on Kooness thanks to Menhir Arte Contemporanea.