A sinistra, scatto di Federico Miletto per The Men Issue, Styling Giovanni de Ruvo. A destra, scatto di streetstyle (fonte: soletopia.com).

L'alfabeto della Moda oggi chiama in causa la lettera B, per Bomber.
Capo originariamente creato per i piloti dell'aviazione durante la Prima Guerra Mondiale, con spiccate caratteristiche di calore e comfort, inizia a cambiare rotta, forma e colori con il passare degli anni, diventando capo-simbolo di appartenenza per diverse subculture, come gli Skinhead negli anni 80, o i Punk che lo intercambiavano con il loro amato chiodo, ma con applicazioni di spille da balia, borchie, frasi scritte a pennarello e patch provenienti da concerti in giro per il mondo, il tutto rigorosamente handmade.
Diverso per caratteristiche, colori e significato, è il bomber baseball, con maniche abbondanti, spesso di colori e materiali a contrasto, elastico in vita e patch applicata sul fronte con lo stemma della squadra, città o college di appartenenza, diventato nel tempo un caposaldo dello stile preppy, lo sporty-chic per antonomasia. Quello che però resta un evergreen, che continuiamo a vedere indossato da molti e che rimane nell'immaginario collettivo, è il classico in nylon verde o nero con il taschino sulla manica, dalla vestibilità ampia con la fodera arancio a contrasto.
Nel cinema, un giovane Ryan Gosling nel film Drive consacra il bomber in satin bianco, sfoggiandolo in modo spavaldo nella sua duplice vita da duro, di giorno stuntmen e di notte rapinatore.
La storia ci racconta anche di un'altra tipologia di bomber, e cioè quello ricamato: la sua nascita non proviene dall'estro di un talentuoso designer dei giorni nostri, bensì dal Giappone, ai tempi della Seconda Guerra Mondiale. I soldati americani se li facevano ricamare prima di ritornare a casa da artisti giapponesi, spesso per raffigurare territori conquistati, uniti a simboli patriottici e nipponici: aquile insieme a fiori di ciliegio, carpe e dragoni; una sorta di cartolina da portare sempre con sè, segno di forza, dedizione e riconoscibilità.
Ed è quest'ultima l'ispirazione dietro al capo protagonista dello scatto realizzato per The Men Issue da Federico Miletto: il modello indossa un bomber in seta ricamato con dettagli a contrasto della collezione s/s 18 Coach 1941, abbinato, in modo semplice e contemporaneo, a una T-Shirt bianca e un pantalone classico a righe, ma slim fit; nello scatto di streetstyle che troviamo a fianco invece il bomber oversize è indossato con un gioco di sovrapposizioni su un'altra giacca in nylon imbottita e una maxi felpa con cappuccio in denim, creando così un contrasto di colori e volumi assolutamente attuale, adottato in particolare dai ragazzi più giovani.
I designer, nelle sfilate attuali, come potete vedere nella gallery che raccoglie alcuni look dalle collezioni maschili della spring/summer 2018, propongono il bomber in svariati modi, creando varie tipologie di styling e di attitude; dal classico check all over di Burberry, al maculato di Les Hommes, al bomber in suede leggero con cappuccio e stampe di Hermès, fino a quello in stile vintage con applicazioni e maniche fiammanti di Philipp Plein. Giovanni de Ruvo
Burberry, ss18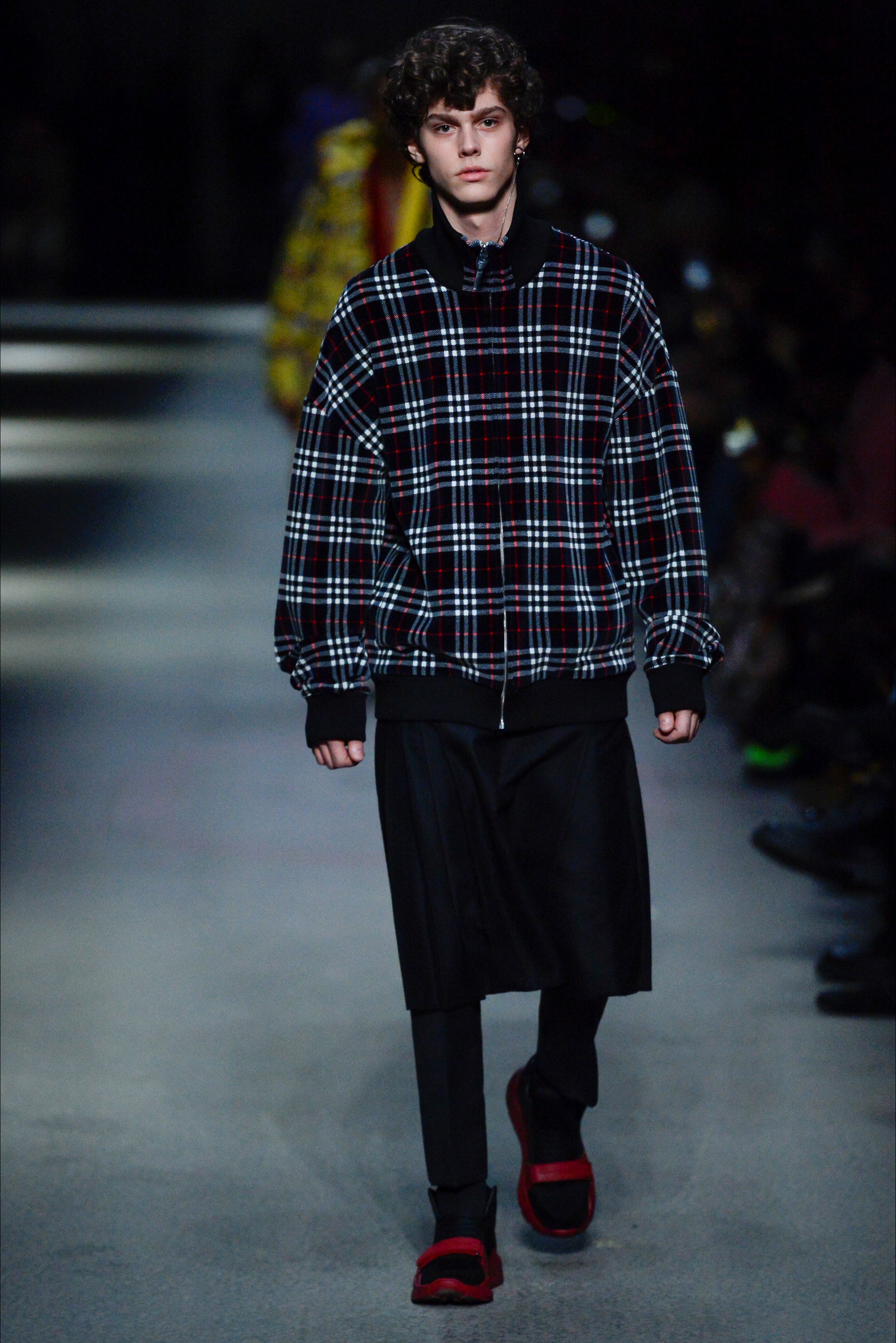 The Fashion Alphabet today is about B, for Bomber Jacket. Created at first for the aviation pilots during the First World War, with marked features of warmth and comfort, it started to change course, shape and colors as the years went by, becoming an icon of group identity for different subcultures, like the Skinheads in the 80s, or the Punks, that interchanged it with their beloved leather jacket, embellishing it with safety pins, studs, writings and patches of concerts from all over the world. Different for features, colors and meaning, is the baseball bomber, with wide sleeves, usually made of contrasting fabrics and colors, with elastic waistband and patch on the front with the symbol of a team, city or college, become a symbol of the preppy style, the quintessentially sporty-chic. But the evergreen is the classic bomber made of green or black nylon, with sleeve pocket, loose fit and contrasting orange lining. Talking about movies, a young Ryan Gosling in Drive legitimized the white satin bomber, wearing it arrogantly in his double life, stuntmen in the day and thief at night. History tells us about another kind of bomber, the embroidered one: it's not a creation of a contemporary talented designer, but it comes from Japan, back to the Second World War. American soldiers had them embroidered before coming back home by japanese artists, usually with the conquered territories, combined with patriotic and nipponese symbols: eagles with cherry blossoms, carps and dragons; a kind of postcard to wear, sign of strenght, dedication and identity. And this last one is the inspiration behind the garment protagonist of the shot by Federico Miletto for The Men Issue: the model wears an embroidered silk bomber with contrasting details of the Coach 1941 ss18 collection, matched, in a simple and contemporary way, with a white T-shirt and classic, but slim-fit, striped trousers; in the streetsyle pic aside the oversize bomber is worn with a play of layers with another nylon jacket and a denim hooded sweatshirt, creating a very modern contrast of colors and volumes, adopted mainly by young people. Fashion designers, as you can see in this gallery that collects some looks from the ss18 menswear collections, present the bomber jacket in varied ways, creating different kinds of styling and attitude; from the classic Burberry all-over check, to Les Hommes animalier, to the Hermès printed hooded light suede bomber, to the Philipp Plein vintage-inspired jacket with embellishments and flaming sleeves. Giovanni de Ruvo