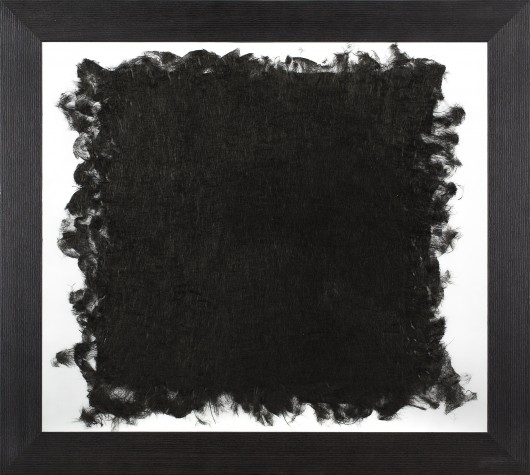 Continuity – Arteconomy – Art without the Artist
Arteconomy è un movimento artistico che fonde arte ed economia, rendendo quest'ultima elemento essenziale e costitutivo dell'opera d'arte stessa e trasformando in superfluo il ruolo dell'artista.
L'idea nasce da Five Gallery, una galleria di Lugano che è parte dell'esclusivo network di gallerie d'arte di Kooness. Viene presentata per la prima volta il 25 novembre 2016, come risposta provocatoria al peso eccessivo che la finanza e l'economia hanno raggiunto nel mondo dell'arte.
Arteconomy trova la sua prima espressione nell'opera "Continuity".
Continuity è un insieme di opere numerate progressivamente composte da un taglio di fibra di carbonio riciclata mediante un processo industriale innovativo. Il risultato viene posto all'interno di una cornice, creando una prima interrelazione tra economia reale e arte.
Arteconomy trova espressione nel movimento del prezzo di vendita che diventa parte integrante dell'opera stessa: partendo da un prezzo di 500 Frs per "Continuity 1" il valore aumenta in modo costante (100 Frs) ad ogni opera venduta: di conseguenza "Continuity 2" vale 600 Frs, "Continuity 3" 700 Frs e così di seguito.
L'incremento costante del prezzo non è legato all'aumento della domanda, ma rappresenta l'emozione che ogni collezionista prova al momento dell'acquisto. Questo incremento, definito emozione incrementale, viene interamente devoluto in beneficienza, con l'intento di rimettere in primo piano l'aspetto sociale dell'arte rispetto all'attuale valore elitario. Emozione porta emozione.
Tutti i collezionisti di Arteconomy costituiscono una community che in Arteconomy è vista come una società; e come in tutte le società che quando crescono producono utili e distribuiscono dividendi, anche Arteconomy distribuisce un dividendo o meglio un (con)dividendo emozionale.
Arteconomy infatti distribuisce il 10% del prezzo netto incassato dalla vendita di ogni nuovo Continuity fra tutti gli acquirenti precedenti: una formula assolutamente innovativa che permette a tutti i collezionisti della serie "Continuity" di beneficiare direttamente della crescita e del successo di Arteconomy.
L'opera "Continuity 21" è attualmente in vendita online su Kooness.com.
Arteconomy – ART WITHOUT THE ARTIST on Kooness.com – Arteconomy is an artistic movement that combines art and economy, making economy and finance essential and fully integrated into the artwork itself, making the role of the artist superfluous. The idea comes from Five Gallery in Lugano, partner of Kooness' network of international art galleries. Arteconomy was presented for the first time on November 25, 2016, as a provocative response to the excessive emphasis on finance and economy in the contemporary art world. Arteconomy finds its first expression in the work "Continuity". Continuity is a set of progressively numbered works composed of a piece of carbon fibre recycled using an innovative industrial process. The result is placed within a frame, creating a first interrelation between real economy and art. Pricing becomes an integral part of the work itself: starting with an assigned price of 500 Sfr to "Continuity 1" , the price steadily increases by 100 Sfr with every piece sold. The value of "Continuity 2" is 600 Sfr, "Continuity 3" 700 Sfr and so on. This constant mark-up is not due to the increasing demand, it is the emotion that every single collector feels when buying. This mark-up, defined as incremental emotion, points to a subsequent, stronger, emotion and its face value is entirely donated to charity, highlighting the social dimension of art in contrast to its current elitist value. Arteconomy collectors form a community that can be viewed as a corporate. Like every corporate that grows earnings and pay dividends, Arteconomy distributes a dividend too: an emotional condividendo (Italian wordplay mixing up "to share" (condividere) and "dividend" (dividendo)). Arteconomy distributes 10% of the net price paid for each new Continuity to all the previous buyers: an absolutely innovative formula which allows all "Continuity" series collectors to benefit directly from Arteconomy growth and success. The work "Continuity 21" is now on sale on Kooness.com.