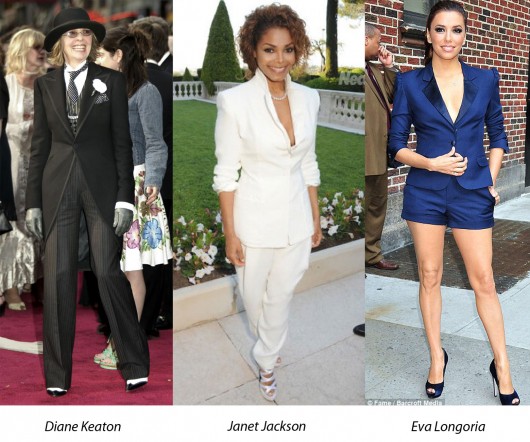 Molto spesso si pensa alla moda maschile come ad un universo in qualche modo più limitato rispetto alla varietà di fogge, colori, fantasie, volumi e disegni che invece affollano lo stile femminile. Eppure non è raro che siano le donne stesse a saccheggiare il guardaroba maschile per reinventare il proprio look, dando vita a trend androgini più o meno resistenti nel tempo.
Che sia per darsi un tono oppure per mettere in scena l'ennesima stravaganza, le dive di Hollywood non esitano a indossare, anche nelle occasioni più illustri, pezzi dal taglio decisamente mascolino. A volte, al solito, esagerando: di sicuro saprete che l'attrice Diane Keaton è solita vestire giacche e pantaloni dalla foggia maschile, ma magari non ricordate che, quando era nominata agli Oscar del 2004 per Tutto può succedere, si presentò sul red carpet vestita di tutto punto con un frac Ralph Lauren con tanto di gilet gessato, guanti, bombetta e fiore all'occhiello. Quello di Keaton voleva essere un omaggio a Charlie Chaplin, ma è sembrato più un'imitazione del suo maggiordomo.
Il segreto per le celebrity che osano il man style è forse quello di trovare il modo di sottolineare in ogni caso la loro femminilità: nonostante i problemi di famiglia e la carriera piuttosto appannata, la cantante Janet Jackson era decisamente radiosa al party di amFar lo scorso maggio a Cannes, dove sfoggiava un abito giacca-pantalone bianco di Armani Privé, che la slanciava e ne illuminava la carnagione. Femminile e sexy allo stesso modo era Eva Longoria quando, nell'aprile 2011, è andata ospite dal popolare conduttore di talk show David Letterman con un abito che rielaborava succintamente – per usare un eufemismo – un classico tuxedo blu notte, così attillato da rischiare una "wardrobe malfunction" e da imbarazzare Letterman, il quale ha ironizzato: "Vedo che ti sei messa uno smoking, o ciò che ne resta". Una scelta di look simile l'ha fatta nel 2012 Michelle Williams agli Independent Spirit Awards, i premi del cinema alternativo, sfilando sul tappeto "viola" con un blazer a doppi bottoni e short blu: qui l'effetto più che sexy, però, è da scolaretto il primo giorno di scuola, sensazione aumentata dal fatto che l'attrice tenesse in mano una copia de Il giovane Holden. Se in più ci mettete la carnagione pallida e i capelli biondissimi della star, vengono solo due cose in mente: NO e IA.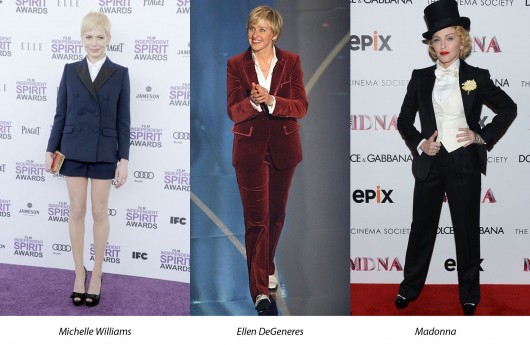 Un'altra celebrità americana che indossa abitualmente completi maschili è Ellen DeGeneres, comica che fu fra le prime personalità pubbliche a dichiarare apertamente la propria omosessualità negli anni '90. Nel 2007 le fu affidata la conduzione della notte degli Oscar e lei pensò bene di presentare la serata indossando un completo di velluto con annessa camicia bianca. Le sue battute irriverenti ci fanno perdonare perfino il color moquette di motel che aveva scelto, ma speriamo che l'anno prossimo, quando farà per la seconda volta gli onori di casa agli Academy Awards, s'inventi qualcosa di meglio.
Una carrellata di questo tipo ha la degna conclusione citando una star che sulle contaminazioni – e sugli eccessi – di stile ha fondato una carriera: Madonna. La Material Girl negli ultimi tempi è tornata a stupire con outfit quantomeno discutibili (dalla mise "squillo"-style dello scorso Met Gala ai costumi da Maria Antonietta punk per il suo ultimo compleanno), ma in occasione della presentazione del live del suo ultimo MDNA Tour sul canale Epix è riuscita in qualche modo a fondere stravaganza e classe: il suo tuxedo Dolce&Gabbana completato da tuba e cravattino bianco è un chiaro omaggio a Marlene Dietrich, grande icona dello stile androgino. Anche perché ormai si può parlare di entrambe come di "vecchie" stelle dello spettacolo. Paolo Armelli (http://liberlist.wordpress.com/)
We're used to think about menswear as a limited field compared to womenswear in terms of shapes, colours, patterns and volumes. But it's common to find women that sack the male wardrobe to reinvent their look, giving life to – more or less enduring – androgynous trends. Maybe to make an impression, or to put up a new extravagance, Hollywood divas don't hesitate to wear, even in the most formal events, masculine style clothes. Sometimes exaggerating: you surely know that Diane Keaton is used to wear jackets and trousers inspired to menswear, but maybe you don't remember that, when she was nominee at 2004 Oscars with Something's Gotta Give, she walked on the red carpet all dressed up in a Ralph Lauren tailcoat with pinstriped waistcoat, gloves, bowler hat and boutonniere. She wanted to honor Charlie Chaplin, but she looked like an imitation of her butler.
The secret for celebrities that dare to wear man style is to find a way to highlight their femininity in any case: in spite of family problems and a blurred career, the singer Janet Jackson was certainly radiant at the last amFar party in Cannes, where she wore a white suit by Armani Privè, that made her slender and bright. Feminine and sexy in the same way Eva Longoria when, in April 2011, was a guest of David Letterman Show, wearing a "suit" that succinctly reworked – to put it mildly – a classic blue tuxedo, so tight-fitting to risk a "wardrobe malfunction" and to embarass Letterman, who said: "I see you wore a tuxedo, or the rest of it". A similar choice was made in 2013 by Michelle Williams at the Independent Spirit Awards, the alternative cinema awards, walking on the "purple" carpet with a double-breasted jacket and blue shorts: but here the impression is more "first day of school", enhanced by the copy of "The catcher in the Rye" that she holds in her hands. Then if we notice her pale complexion and her blonde hair, the two things we think about are BORE and DOM.
Another american celebrity that usually wears suits is Ellen DeGeneres, comedian among the first personalities to come out in the Nineties. In 2007 she presented the Oscar Night wearing a velvet suit with a white shirt. Her irreverent speech let us forgive her for that motel carpeting colour she chose, but we hope that she'll invent something better for next year, when she will host for the second time at the Academy Awards.
This kind of overview has the right ending with a star who made a career based on style fusions – and excess – : Madonna. In the last period the Material Girl has returned to astonish with questionable outfits (from the call-girl style of the last Met Gala to the punk-Marie Antoinette costumes of her last birthday), but at the event for the presentation of her MDNA Tour live on Epix channel she succeeded in merging class and extravagance: her Dolce&Gabbana tuxedo, crowned by a top hat and white bow-tie, is a clear homage to Marlene Dietrich, great icon of androgynous style. Also because we can talk about both as "old" stars by now. Paolo Armelli